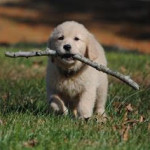 We received a lot of feedback and some pretty great tips from our readers after featuring a blog regarding how to sell your home with the presence of pets. Thanks to all who sent messages and commented on our post. Without further adieu, here are the additional suggestions on maintaining your home:
1. Keep those wood floors polished! Be sure and get your dog's nails grinded instead of clipped. Any local vet or pet groomer should have the ability to do this and it will save you years of damage on your hardwood floors. By grinding the nails, they will have a rounded edge, thus no scratching!
2. Consider a floor replacement. If your hardwoods are too damaged and the cost to repair is out of your budget, think about replacing hardwoods with ceramic tiles that look like wood. They can withstand years with pets without showing the wear and tear.
3. Be careful of your plants! Both cats and dogs like to chew on the greenery of indoor plants. Be sure to replace or remove any prior to showings.
4. Invest in a good vacuum. We often forget just how much our pets can shed! One reader shares that when her parents come to visit and bring their loveable pup, she finds dog hair hidden in all nooks and crannies – months later! Using a powerful vacuum can help, and keeping a regular maintenance schedule will keep your home looking sharp.